As I sit on the couch waiting for Patrick to shower, so we can go to our local Remembrance Day ceremony, I can't help but reflect on all of the people who dealt with tragic loss of life and limb to fight in wars for not only our freedom, but the freedom of those around the world.  I can't even imagine.
I have known a couple soldiers who died overseas on peacekeeping missions of sorts.  I didn't know them well, but they were people that I went to high school or cadet camp with.  They were in their early 20s with families and friends at home.  What a struggle it must be to process that someone died doing something that, for them, was entirely optional, but that they believed in so strongly to protect others.  What a struggle it must be to ask the question, "Why them?"
The best we can do is pay our respects.  Say thanks.  Try to keep these things from happening again.
We live in a fallen world.  Wars happen.  People die terrible deaths.  Families are broken.
That brings me to this piece of scripture, which has been weighing on my heart.
For everything there is a season, and a time for every matter under heaven:

a time to be born, and a time to die;
a time to plant, and a time to pluck up what is planted;
a time to kill, and a time to heal;
a time to break down, and a time to build up;
a time to weep, and a time to laugh;
a time to mourn, and a time to dance;
a time to cast away stones, and a time to gather stones together;
a time to embrace, and a time to refrain from embracing;
a time to seek, and a time to lose;
a time to keep, and a time to cast away;
a time to tear, and a time to sew;
a time to keep silence, and a time to speak;  a time to love, and a time to hate; a time for war, and a time for peace. -Ecclesiastes 3:1-8
It seems pretty appropriate to the day and to the season.  It is a beautiful and yet heartbreaking thought at the same time.
I guess that is what life in our world is really like.
Even going beyond this, I really like the next part of the passage.  I feel like most people have heard the first chunk, but this chunk isn't as popular.
What gain has the worker from his toil? I have seenthe business that God has given to the children of man to be busy with.  He has made everything beautiful in its time. Also, he has put eternity into man's heart, yet so that he cannot find out what God has done from the beginning to the end. I perceived that there is nothing better for them than to be joyful and to do good as long as they live; also that everyone should eat and drink and take pleasure in all his toil—this is God's gift to man.

I perceived that whatever God does endures forever;nothing can be added to it, nor anything taken from it. God has done it, so that people fear before him. That which is, already has been; that which is to be, already has been; and God seeks what has been driven away.  -Ecclesiastes 3:9-15
I love that this not only addresses work with a purpose, but also God's plan and how big God can be.  And that is even despite all the wars or terrible things we can create.
My favourite verse in all of this are basically summed up in this lovely image: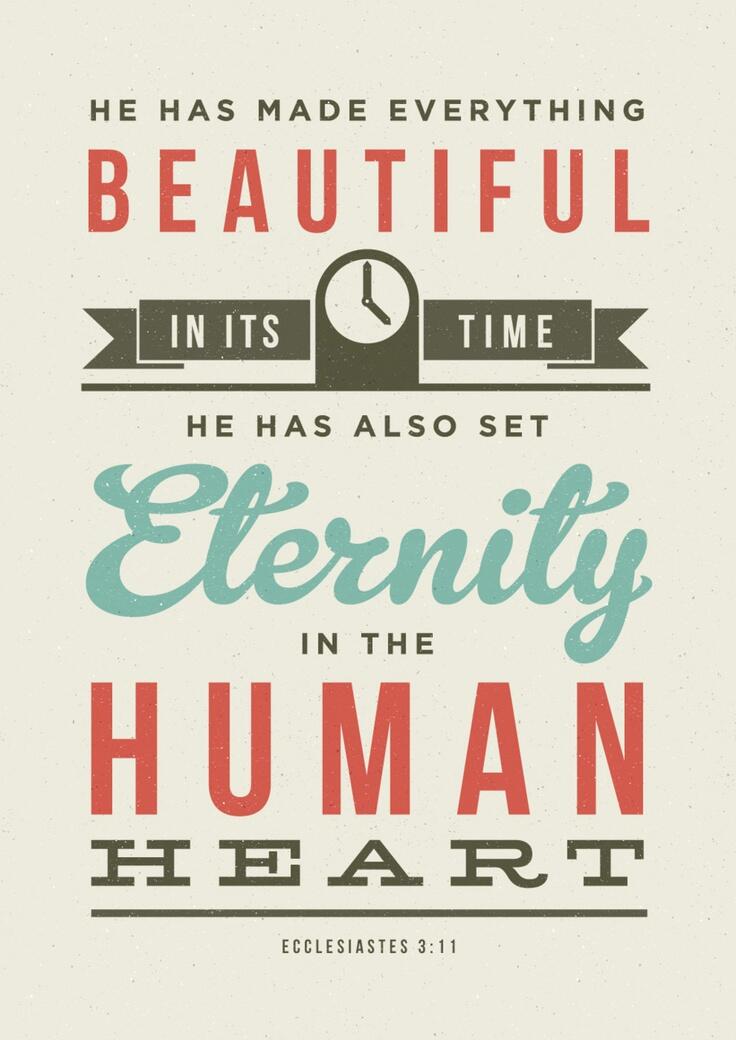 I like that it is like a timing and purpose type quote all in one.
I am glad this is all for not.  I am glad that even when we mess things up again and again, there is still beauty and purpose that comes out at one point or another.  I am glad that it is all laid out, and that God knows what is going down, even if we don't and can't understand it.